Meet the
Research Advocates
Research advocates at Vanderbilt-Ingram Cancer Center support our research efforts in many ways and for many reasons. Our advocates are cancer survivors, caregivers, and community members who are committed to making a difference.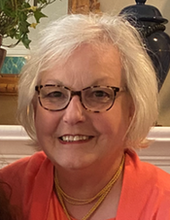 Having taught elementary school for thirty-seven years, Edith retired in 2015. Her inquisitive nature has been the force behind her continued need for learning.
Edith was diagnosed with stage 1C grade 3 triple negative breast cancer in 2019 and began the tough journey through chemotherapy and radiation treatments. Because of her experience, she has developed a deep passion for learning about and promoting awareness for cancer research and helping others on their breast cancer journey. Edith's way of giving back to VICC and expressing her gratitude for the care she received is to serve as an Advocate.
In 2022, Edith joined the Vanderbilt-Ingram Cancer Center's Breast Cancer SPORE and attends the monthly Project Leaders meeting to continue to learn about innovative research and ensure the patient voice is represented. In 2023, Edith served VICC as the Research Advocate advising on a Susan G. Komen Leadership Grant application.
Outside of being a Research Advocate, Edith is a Sunday School team teacher, part of the Women's Bible Study at her church, and on her neighborhood's HOA Board of Directors.
Edith was declared "cancer free" in 2020.